Dear Orchid Lovers!
The translation of the English version of this website is still in progress. Some of the content is not yet translated. We apologize for the inconvenience.

The "Vereinigung Deutscher Orchideenfreunde VDOF e.V." an Association of German Orchid Lovers", sees itself as a holding organization of the attached orchid organizations, but you can become an individual member as well. We provide our members with advice and a cost-free assessment of the exhibition stands as well as the individual plants at exhibitions.
On our website, we would like to introduce you to the "OrchideenJournal" which by now is published in its twentynineth year .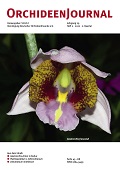 Our latest issue has just arrived, so please feel free to take a sneak peak with one of the journals' online published sample articles.
You will find that with regard to picture quality and a wide rage of topics the Orchideen Journal ranks among the top Orchid related publications in the world.
If the sample articles have convinced you to try out the "OrchideenJournal" along with a membership please contact our head office. You will also find an application form for the membership in the V.D.O.F. e.V.
Yours sincerely
Roland Schettler
(1st Chairman)