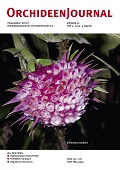 Last issue 4 / 2023

Convince yourself of the first-class quality of the OrchideenJournal with a few selected sample articles.
You will notice that the OrchideenJournal ranged among the leading magazines of the orchid world.
Please note that the published articles are copyrighted. All rights, and in particular the translation into foreign languages.
No part of this article may be reproduced without the written permission of the club in any form-through micro-film, photo copies or other procedures reproduced or in a machine, in particular of data processing equipment, be usable language. The rights of reproduction in lectures, radio and television broadcasts, in Magnettonverfahren or similar path are reserved. Photocopies for personal use and other personal use is limited to individual contributions, or parts thereof as a single copy can be produced.
The authors are responsible for the content of their articles and any other information to itself, the contributions must not contain data, the equivalent of an advertisement. With author name featured articles do not necessarily represent the opinion of the editorial department. The authors assume responsibility for the fact that the publishing rights to use images is ensured; the manuscript are accompanied by appropriate references to add. For at the expense of VDOF Prepared texts, etc. Lithos receives the VDOF the unrestricted right of use.
About the publication of articles and letters to the editor decides reserves the right to revise them as appropriate or reducing them.
Note: From Issue 1 / 2007 onwards, we offer you the sample articles published online as a pdf file to download.
To view the articles, you will need the free Adobe Acrobat Reader, which you can download at http://www.adobe.com/acrobat.